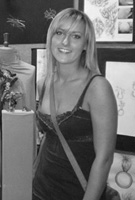 Agata kosel is a breath of fresh air within the jewellery world. Her unique sculptural and elegant pieces worn on the body are born out of her interest in fluid forms of nature, focusing mainly on the female body. Her desire for jewellery came from an unusual start to her education. Agata studied biology in her native Poland with plans to become a Biologist. She says;
"I always dreamt to be a designer and the truth is i started to study more scientific subjects than art, but the thought of pursuing a career as a Biologist quickly came to an end, and fortunately bought me to one conclusion – art design."
Her love of the natural world and natural forms enlightened a passion for art and design. Agata travelled to England to study a foundation course in arts, where for the first time, fell in love with jewellery design. She was very fortunate to be approached by the Royal Opera House to collaborate in the design and making of performance costumes. Agata is already an award winner for her outstanding designs and dedication within the community. After this she began to turn her passion to a new career as a fashion jewellery designer and went to the reputable Central Saint Martins College of Arts in London.
After being taught by prestigious designers like Naomi Filmer, Shaun Lean, Hanah Martin and others, she quickly developed her own very distinctive style of work. During her studies she collaborated her design ideas with Links of London and is the award winner of the "Fresh London" competition. She gained the award for 3d Design Technology and Innovation from the Goldsmiths Craft and Design Council where she exhibited a few beautifully crafted pieces.
In 2012 Agata Kosel launched her first collection. A fascinating debut 'The Quean' was created to enhance and celebrate the female body. The collection is directly influenced by body curves and the relationship between body and object. Agata creates simply constructed but well thought out pieces that explore the different areas of the body. She is calling it wearable sculptures for both men & women, giving jewellery a new fresh definition! She clearly shows that jewellery can do more than just sparkle. Designed for a broad audience and to be affordable, she wants her range to be seen by each customer from a different linear perspective, creating an experience of a personal journey of sensuality.